Year 6 Into Year 7 Transition September 2020
Year 6 Into Year 7 Transition
Dear Parents, Carers and Students,
We warmly welcome you to our school and are looking forward to working with you to support the education, personal development and well-being of our new students as they make their exciting journey into adulthood.
Making the move from primary to secondary education is an exciting and important part of any child's education and we want to ensure that the process is a positive and calm process. Therefore we will be working with you to ensure a positive start in your child's education here at Knole Academy.
Ahead of our Induction Day, we have organised a member of staff to visit your child's Primary School. This will give your child the opportunity to ask any questions they may have once our member of staff has given them an overview of life at Knole Academy. They will be given a literacy task to complete on the day and a homework task to produce over the summer holiday.
We are really looking forward to meeting you and your child in July and when they start in September. Please do not hesitate to contact us if you require any further information - admissions@knoleacademy.org (it is worth saving this address into your safe sender's mail to prevent important emails from going into your junk).
Mrs Barnes
Senior Deputy Headteacher

Mrs McGauley
Head of Year 7

Mr Major
Deputy Headteacher Pastoral KS3
Admission Form - please remember to return your completed Admission Form to the Admissions Team - admissions@knoleacademy.org.

Year 7 Clubs
At Knole Academy we put a great deal of emphasis on extra-curricular clubs as they give students a broader perspective on life, higher self-esteem and develops essential life skills such as teamwork, problem solving and leadership. We encourage students to join at least one club and offer a wide range of activities. For an example of what we currently offer please click here.
Uniform
We are introducing a new uniform for Year 7 September 2019 intake. The Uniform sizing event details can be found on the key calendar dates above. All ordering is to be purchased online, the following link will direct you to the correct area of Price & Buckland's website:
Visit Price & Buckland
All students will be informed of their house at the Induction day on Thursday 4 July. Ties cost £6 and this money should be paid at the Uniform Fitting Event or Induction Day. Ties will be awarded on Monday 2 September 2019.
House Information
Our house system will provide students with a sense of identity outside of their year group and will support them in developing a range of skills within the curriculum and beyond. This personal growth will support students to develop into well-rounded members of our local and wider communities. Students will compete in a range of individual and group based awards where trophies are awarded. Further information on our House Icons can be found on our website by clicking here.
Homework
Homework will be set by each subject area using a website called 'Show My Homework'. Each student is expected to complete their homework on time in order to demonstrate they have understood what they have been taught in class and to reinforce their learning. Login details for each student will be supplied in September. Further information can be found by clicking here.
Transport
We know that travel into school can sometimes be one of the biggest worries for students. There are a variety of travel options for them. Please check the transport link under the parent portal on our website by clicking here. We do encourage students to walk to school for health and environmental reasons and to alleviate congestion around the school. For those who choose to cycle we do have a cycle shelter at The Place. If you do have to drive, please be aware we do not have parking spaces but there is a drop off and picking up area by the front of the school.
School Lunch
We offer our new Year 7 students an earlier lunch to help with the transition process and in order for them to get to the front of the queue in the Dining Hall. Students are welcome to bring in their own packed lunch or we have delicious healthy lunches on offer by Independent Catering which are payable via Squid. You can look at a sample menu here.
Well-Being
The well-being of our students is a key priority for the school. We currently have a range of provisions to promote positive emotional well-being. These include;
Drawing and talking sessions
Anxiety, self-esteem and anger management mentoring
The 'ARC'
Meditation - a paid for meditation app for students
'Teen Breathe Magazine' subscription.
The Calm Zone for reducing anxiety with a range of resources such as colouring books and equipment
PSHE Curriculum includes mindfulness, mental health awareness, making friends, anti-bullying work and protected characteristics
Place2Be, the mental health charity, has some helpful information for parents to help support their children during the transition period. Please click here to view the link.
There will also be well-being information events for parents next year. Please click here to view the wellbeing parental letter.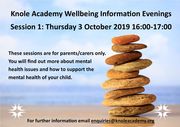 The Induction Day should answer any remaining questions. You will receive a Transition Booklet which will also contain some FAQs.
Follow Us
In order to get a taste of Knole Academy follow us on our social platforms which will keep you up to date with all the latest news and events.