Knole Academy Tree Project Report
Back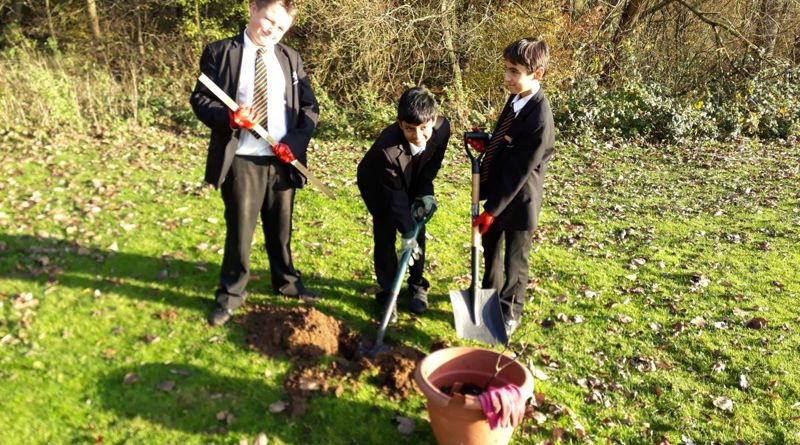 Article
/ Posted on 11 Dec
On Friday 29th November the Knole Academy Tree project, run by the Science and Nature and Gardening club, teamed up with the Woodland Trust to take part in National tree planting week. This event aimed at bringing individuals, communities and schools together, to plant 1 million trees throughout the UK, to reduce global warming.
Over 20 students from all year groups, took part in the planting of 10 trees around the school field. The Knole Tree project aims to improve the school environment, encourage biodiversity and play a small part in the global action campaign to reduce the effects of climate change.
The trees planted were native trees from local woodland and consisted of Oak, Chestnut, Sycamore, Maple, Rowan and Beech. The school also planted an apple tree in honour of Isaac Newton, to encourage pollinators into the school grounds.
It is hoped that during the course of their life, these trees will play a small part in reversing the effects of human activity, by reducing atmospheric carbon levels. As these tree mature, they will absorb approximately 48 pounds of carbon dioxide per year (among other greenhouse gases like ozone), and release enough oxygen for a person to breathe for two years. It is estimated over the lifetime of these 10 trees, they will absorb around 9 tons of carbon. However Oak trees, that can live up to 1000 years, can absorb as much as 24 tons of carbon on their own.
Alongside this project the school is also running a KS3 joint Science & History competition for homework over the Xmas holidays. The students have been asked to produce a write up on a tree of their choice, which will include biological classification, interesting facts and connections to famous people. The winner's fact sheets, will be made into plaques identifying each tree. The Head will be judging the students work after Christmas and prizes and house points will be awarded to the winners. An example can be found below.
The Knole tree project is the kick off towards making Knole Academy a more environmental school and we are now part of the Eco Schools Project. The Eco team will be working on ideas on how we can become more eco-friendly along with the current project on developing our recycling profile. We also have future plans consisting of a flower meadow, sensory garden and wildlife pond.
Mrs Nixon
Science Teacher
Homework Example - Sir Isaac Newton's Apple Tree