Sixth Form Induction Information
(sent to students/parents via email 9.7.21)
You will have received your Induction information. Please ensure you complete the online NCS form and return no later than Wednesday 21 July 2021.
Sixth Form Information & Action List for Students - September 2021
Sixth Form NCS Information Parent Letter July 2021
Sixth Form NCS Sign-Up Form - to be returned to Mr Turner by Wednesday 21 July 2021
---
Update for Students starting Sixth Form in September 2021
Induction date Wednesday 1st September 2021 12:00pm The Buttery
National Citizenship Service (NCS) Programme has been confirmed and will go ahead as planned:-

Thursday 2nd, Friday 3rd & Monday 6th September - Outdoor Adventurous Activities offsite
Tuesday 7th - Friday 10th September - Social Action Planning onsite

Relevant literature and information has been emailed to you

Y11 into Y12 Transition Assignments have been published and are ongoing.
Handing in dates - Assignment 1 - 26.6.21, Assignment 2 - 16.7.21 & Assignment 3 - 20.8.21. Please click here to view the assignments.
---
exam assessment information 2021
All Post 16 students have been sent the timetables for the Year 13 assessment for GCE qualifications. All assessments will take place within scheduled lesson time. This timetable is displayed under Exam Information on our website and can found by clicking here.
---
Sixth Form Applications for September 2021
Thursday 1 April 2021
We have had a record high demand for places, September Guarantees were sent out to students on Friday 5 February 2021. Students can still apply to Knole Academy Sixth Form, but some courses are now full, therefore some places cannot be guaranteed.
---
Sixth Form Open Evening for 2022 applicants
We welcome you to our Sixth Form Virtual Visit:
Our Sixth Form Virtual Visit. Please click here for further information from our Headteacher and Deputy Headteacher. Our Sixth Form Virtual Visit with subject video presentations can be found by clicking here.
Course Directory Information - to view the 2021 Course Directory with entry requirements, click here. Please note there may be slight changes for 2022 applicants. The new Course Directory will be published by the end of October 2021.
External candidates are invited to look around our site on Friday 3 December. Please email Mr Turner to book your appointment directly - rturner@knoleacademy.org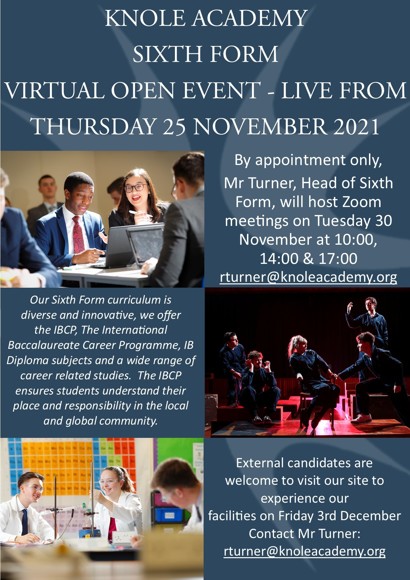 For further information regarding IBCP at Knole Academy please click here.
Apply for September 2021
You can apply directly to Knole Academy by completing the application form below.
Please print, complete and return directly to Mr Turner (please circle the subjects you would like to take).
Application Form for September 2021 (deadline Friday 8 January 2021)
You can apply via Kent Choices via - https://www.kentprospectus.co.uk/
Sixth Form Course Directory September 2021
Course Directory September 2021-2023
---
Sixth Form Legacy Course Directory
Sixth Form Legacy Course Directory September 2020-2022
---
NEW APPEAL POST 16 APPLICATION FORM
Can't find all the information you need? Please e-mail Assistant Principal, Sixth Form & Adult Learners, Russell Turner.