University Information
YEAR 12 DISCOVERY WEEK - 22-25 JUNE 2021
Our Year 12 students completed the Futures Discovery Week programme.
Live Lounge topics throughout the week included and can still be accessed via catch-up
DAY
How to start researching what's right for you | Tues 22 June – 10:10 - 10:50
Students' guide: uni vs apprenticeship | Tues 22 June – 10:55 - 11:35
Choosing the right course | Wed 23 June – 12:00 - 12:40
Applying to Oxford and Cambridge | Wed 23 June – 12:30 - 13:00
UCAS application clinic | Wed 23 June – 13:00 - 13:40
Secrets to a powerful personal statement | Thurs 24 June – 13:45 - 14:25
How to make your CV stand out | Fri 25 June – 12:15 - 12:55
NIGHT
Parents' session and Q&A | Tues 22 June – 18:40 - 19:20
Choosing the right uni for you | Tues 22 June – 19:20 - 20:00
How to land your dream apprenticeship | Wed 23 June – 18:45 - 19:25
Student finance made easy | Wed 23 June – 19:30 - 20:00
Real-life student stories and Q&A | Thurs 24 June – 18:00 - 18:30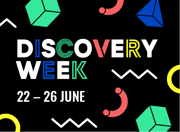 ---
UNIVERSITY GUIDANCE FROM UNITASTERDAYS.com
We are delighted to offer our students online university guidance resources from UniTasterDays. Simply follow the links below to make your informed decisions and be sure to investigate all options provided.
---
Year 12 University Information Event
Representatives from the University of Kent usually make a presentation on student finance but unfortunately this year it will not be possible due to COVID-19 restrictions. Students will be sent information to their email accounts throughout the year relating to university applications and student finance.
Please see below for legacy presentations which you may find useful.