Hair & Beauty Salon
Conveniently located in Sevenoaks, the salon is open Monday - Thursday during term time and on Wednesdays during the summer holidays by appointment. Members of the public are invited to freshen up their hairstyle in our fully equipped hair salon.
Students are supervised by our highly trained professional current staff, allowing you to relax and enjoy your experience.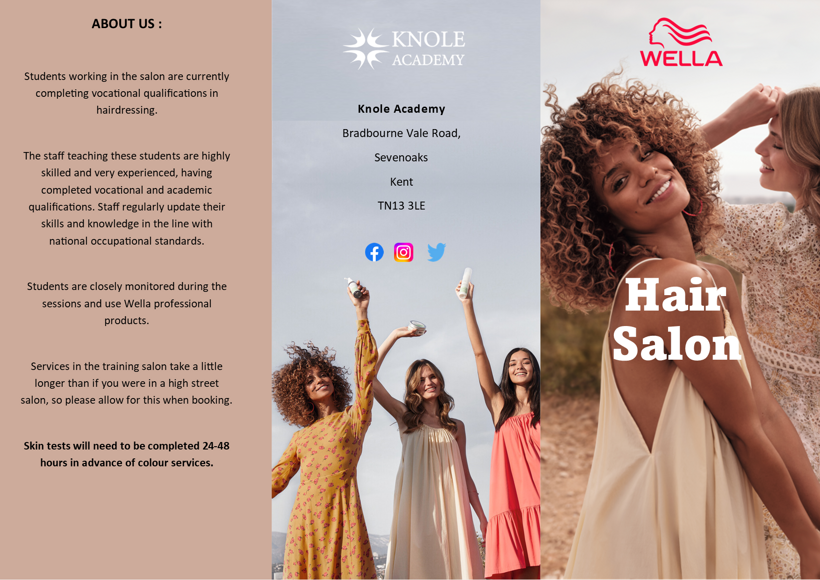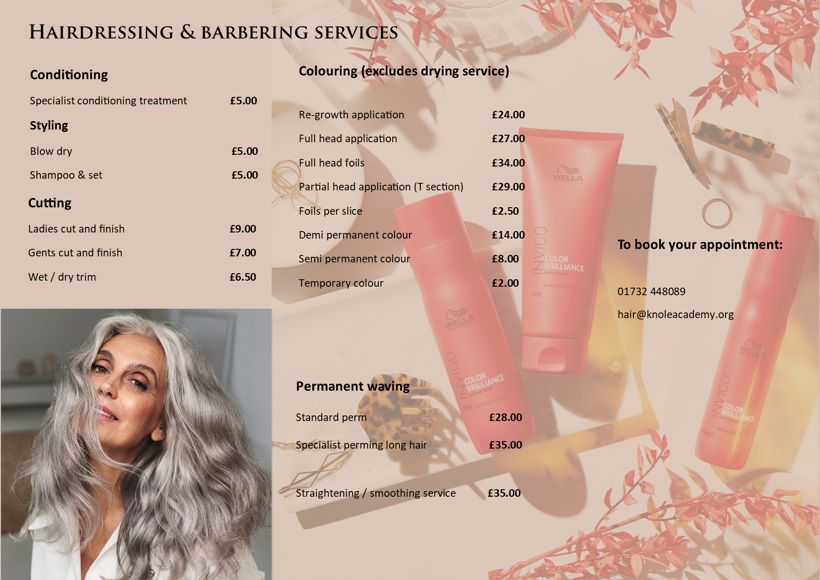 Salon Opening Times
(Term time only)
In the summer holidays, we are open on Wednesdays only - 09:00am - 3:00pm.
Monday

9:00am - 3:30pm

Tuesday

9:00am - 3:30pm

Wednesday

9:00am - 3:30pm

Thursday

9:00am - 3:30pm
Book your Appointment
Telephone: 01732 448089 ex 240
Email: hair@knoleacademy.org

Alternatively call in and see us at: Bradbourne Vale Road, Sevenoaks, Kent, TN13 3LE

Download our price list HERE
About us
Students working in the salon are currently completing vocational qualifications in hairdressing and barbering at levels 1, 2 and 3.
The vocational staff teaching these students are highly skilled and very experienced, having obtained all the vocational and academic qualifications required to train 'tomorrow's salon staff'. Staff regularly update their skills and knowledge in line with national occupational standards.
Services in the training salon take a little longer than those completed by a fully trained and experienced stylist in a high street establishment, so please allow for this when booking your appointment.
Price List
CONDITIONING
Specialist Treatment - £5.00
STYLING
Blow dry - £5.00
Shampoo & set - £5.00
Dressing long hair by quotation
CUTTING
Ladies cut & finish - £9.00
Gents cut & finish - £7.00
Wet / dry trim - £6.50
COLOURING (EXCLUDES DRYING SERVICE)
Re-growth application - £24.00
Full head application - £27.00
Full head foils - £34.00
Partial head application (T-section) - £29.00
Foils per slice - £2.50
Demi permanent colouring - £14.00
Semi permanent colouring - £8.00
Temporary colour - £2.00
Cap high / low lights - £12.00
PERMANENT CURLING
Standard perm - £28.00
Specialist perming long hair - £35.00
Straightening / smoothing service - £35.00