Knole Academy Austria Ski Trip 2022
Back
Featured Article
/ Posted on 25 Feb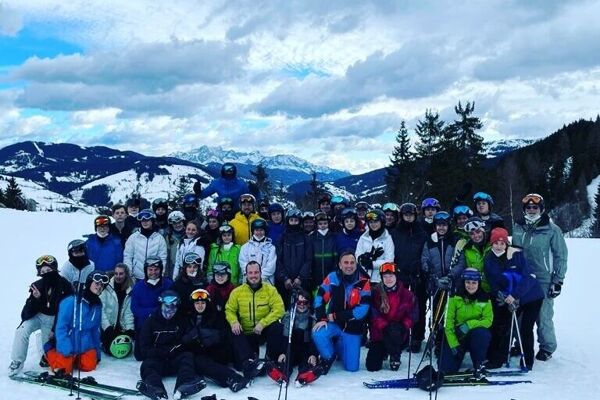 The 2022 Austria Ski Trip was probably the toughest trip ever to organise due to COVID-19. The group were still unsure if we would even make it until 2 weeks beforehand, however, this did not deter Mr Turner! 38 Knole Academy students embarked on this amazing opportunity. Nearly 50% of our students were first time skiers, but this did not slow us up at all.
After a long but fun coach journey listening to Mrs Nimmo sing most of the way, we arrived at the glorious Pass Lueg hotel. After a quick shower and change, it was time to get out and explore the area. Snowballs were thrown (mainly at Mr White) and icy roads were climbed taking in the beautiful sights of the clear blue skies and mountains covered in snow. After a delicious 3 course meal it was time to have our ski fitting. Fully loaded up with all the gear, it was finally time to relax and let the card games begin.
After a good night's sleep and a quick meet and greet with the ski instructors, we were off into the mountains. The group contained a diverse level of skiing ability and we were split into 4 groups. Our skiing adventure had truly begun, with many tumbles and turns; we slowly found ourselves improving. It wasn't long before snow ploughs and parallel turns became the norm and the need for speed became greater and greater. With a jolly cheer from peers to cheer you on, the days flew by. We watched and encouraged each other seeing everyone learn and improve their skills. New mountains were explored, hot chocolates were had, and many doughnuts consumed!
After a full day in the mountains, the evenings were taken up with card games, gourmet meals and team talks from Mr Turner. We ventured out a couple of evenings to partake in the annual Skittles Tournament (a tense and fun evening, who knew we were all so competitive!) and a trip to the local Pool club to face off against each other once again. However, thanks to an all-day flurry of snow we almost didn't make it!
Friendships were formed, fun was had, and skiing was mastered. What an incredible week we had! Sadly, it was time to enjoy our last meal together on this adventure, grab our bags and head home. The coach was loaded and seats occupied ready for the journey ahead and it wasn't long before the sound of snoring could be heard, signifying the end of a jam-packed, busy, but most of all exciting trip to Austria.