Head Students
Head students
We are delighted to announce the Head student roles for September 2019 - July 2020 have been awarded to Samuel & Mae.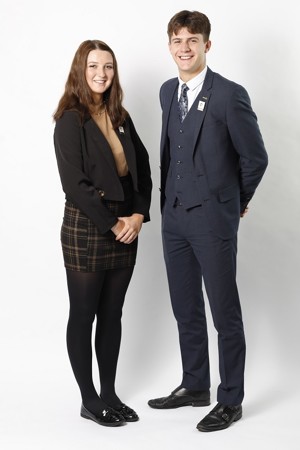 Samuel
My name is Samuel and I am delighted to have been appointed the role of Head Student at Knole Academy. I am currently studying 3 A-levels in Business Studies, Marketing and Financial Studies. I have been a student here for 6 years and have thoroughly enjoyed every moment of my time. Once attaining my A-levels I hope to complete Officer Training at the Royal Military Academy, Sandhurst as I wish to join the regiment of my choice. Going to university is also an option I am considering as this will broaden my opportunities on obtaining a degree if I were to to leave the Army.
The staff at Knole Academy have always pushed me to reach my full potential in my studies and have encouraged me to join various extra-curricular activities which I have enjoyed participating in. I joined the Knole Academy Combined Cadet Force (CCF) in year 10 and I cannot thank the staff enough for giving me the opportunity to take part in such an amazing organisation. The CCF has given me the platform to excel into the person I am today. I am currently ranked as staff sergeant so I have a senior role within the cadets.
Over my time at Knole Academy I have helped with various events. These include; sports days, open events, Christmas fairs and awards evenings which enabled me to build my confidence in public speaking.
The teachers and leadership team at Knole Academy have always supported me throughout my studies. I have thoroughly enjoyed my time here and have always wanted to represent the school because I believe it is important that I lead by example by becoming an ambassador for Knole Academy as Head Boy.
Mae
My name is Mae and I find it an honour to be awarded the role of Head Student at Knole Academy.
At this moment, I'm studying Maths, Biology, Finance and Criminology. After sixth form, I'm aspiring to attend university and take a course in primary school teaching at the University of Glasgow, University of Brighton or the University of Roehampton. I'm also debating whether to take a gap year in order to visit underprivileged primary schools around the world which is where I aim to work in the future. I have recently booked some open days at these universities and I'm ecstatic to find out more about this course that I want to do.
Throughout my six years at Knole Academy, I have taken pride in representing the school, be it at open days, award ceremonies and Year 5 taster sessions. At the beginning of Year 7, the school encouraged me to partake in several extra-curricular clubs, one of them was to audition to be a member of the school's dance team, Cascade. I enjoyed this immensely and I was privileged enough to take part in many dance performances on different occasions including award ceremonies and open evenings. I solidified my passion for dance by becoming the Dance Captain in Year 10. This involved organising dance clubs and attending meetings; an ideal skill that enabled me to become Head Girl. Not only did becoming a member of Cascade help me settle into a new school, but it also allowed me to meet new people and make life-long friends quickly.
During the GCSE options process, I chose Business Studies, History, Sociology and Dance; this then led me to achieve my 10 GCSE results that I am extremely proud of. I continued my journey with Knole and progressed into the sixth form which I would not have been able to do without the incredible support from my fellow peers and teachers. I have enjoyed learning independently about all of my subjects so far and I'm excited to see what happens during my last year at Knole. Before returning to Knole for sixth form, I did attend other school's sixth form open evenings but decided to stay at Knole. I know I made the correct decision to stay here due to the tremendous support from all of the teachers and the excellent facilities that the school has to offer.
A- Levels are definitely challenging and the work load has greatly increased from GCSE level but working towards these qualifications will allow me to attend the University of my choice and help me reach my goals.
Being part of the senior prefect team is a prestigious role that everyone should aspire to be a part of. There's a variety of different positions within the team including Sports Captain, Curriculum Captain, Community Captain and Prefect Co-Ordinator, or you may decide you want to take on a slightly larger role of Head Girl or Head Boy! The school is made up of an amazing support system of teachers that enable you to have incredible experiences during your time at Knole Academy.