Head Students
Head students
We are delighted to announce the Head student roles for September 2022 - July 2023 have been awarded to Joshua and Lilah. Please read their testimonials below.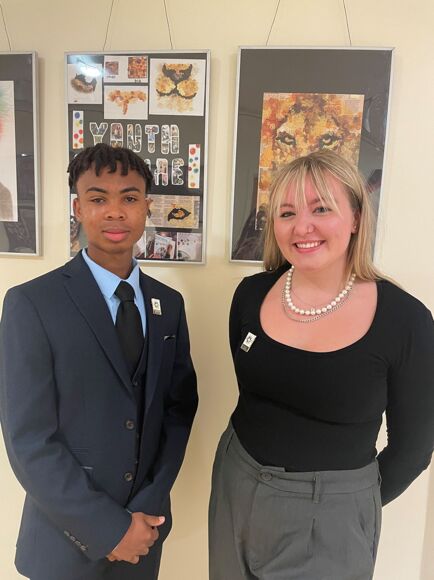 Joshua
Joshua
I am honoured to have been selected for the role of Head Student at Knole Academy. I am currently studying IB Physics, IB Digital Society, IB Geography and Applied Law, with the intention of applying to study law at Aston University. My academic schedule is heavy; studying four subjects as well as the IBCP core doesn't give me any free time, but I'm of the opinion that the sacrifice now will set me up for the rest of my life.
Throughout my time here, I have utilised the many extra-curricular activities and societies the Academy has to offer - which have become the highlights to my school experience. I particularly enjoyed the Duke of Edinburgh expeditions, and have successfully completed Bronze, Silver and Gold Awards. The Academy truly does offer extra-curricular activities to suit everyone's interests. In Year 10 I joined the Knole Academy Combined Cadet Force. I have risen to the rank of Cadet Sergeant Major; leading highly motivated students is an honour and a privilege. Led by the British army CTT, we have camped and gone on exercise at Longmoor and Crowborough with other CCF's from across the country. I would encourage all students to join our CCF – the opportunities it presents are incalculable. My leadership abilities, discipline, and motivation are just three personality traits that have developed exponentially over the last four years. In sixth form I volunteered for the National Citizenship Service programme and met people from all walks of life. My NCS social action project was to develop 'positivity cards' for younger members of society; if just one young person benefitted then the effort was worthwhile.
I have taken full advantage of the opportunities to advocate for the school through internal events such as open evenings and induction days, in addition to being selected to represent the school at external events. I am looking forward to this academic year as Head Student to leave an impression on the school. I intend on engaging with students in all year groups and listening to changes the student body feel can make the school the best it can be. Where will I be in four years time… after graduating with a Law degree, I intend to become an officer with the British Army. I am absolutely confident that my family at home and at Knole Academy has furnished me with the skills needed to realise my dreams and ambitions!
Lilah
Lilah
Hello. My name is Lilah, and I am thrilled and honoured to have been appointed as Head Student of Knole Academy. I am currently studying IB English Language and Literature, Graphics and Music. I hope to be able to study Music Production at either BIMM in Brighton or ACM in London next year, but as yet haven't decided which university will be my first choice. I want to make my selection as informed as possible, so am currently visiting my preferred destinations. I must make up my mind pretty soon, which all seems very grown-up, but with the help of my family and teachers I'm sure that I will make the right choice.
During my time at Knole Academy, I have had many fantastic opportunities to build upon my abilities in the arts and to develop my wider skills. I have been a member of the chamber choir, I have performed, hosted, and produced at school concerts, I have represented my school in Germany and Scotland. I feel that I am ready to take the next step on my music-orientated career.
In addition to supporting my academic and pastoral development, I am grateful to Knole Academy for helping me to build my confidence. I have enjoyed the responsibility of public speaking and talking to parents and fellow students at open events and consultation evenings. I have represented both the Art and Music departments at many functions. In addition, I graduated with honours from the National Citizenship Service programme, successfully completed the Duke of Edinburgh Bronze Award, and during my sixth form work experience week I benefitted greatly from working as a music production assistant at the Forum in Tunbridge Wells.
We are fortunate that Knole Academy can offer so many first-class facilities, as well as a variety of school trips that are both educational and exciting. One of my fondest memories was the Edinburgh concert where we performed at various venues to quite large audiences. It was a memorable experience that I will always cherish, and it helped fuel my love of the arts.
I look forward with excitement to the coming year and I intend to use my time as Head Student to do all I can to help the school and to encourage younger students to take full advantage of everything Knole Academy has to offer, so that their time here can be a rewarding as mine has been.
Head Student Review 2021-2022
HEAD STUDENT REVIEW 2022
Please read the testimonials from Jagtara and Oliver on their experiences as head students from 2021-2022.