Welcome to our Wellbeing Area
Welcome to Knole Academy's wellbeing area. Here you can find advice about how to support your wellbeing, as well as support for mental health issues and coping with traumatic events in life.
The wellbeing of our students is a key priority for the school. We want all of our students to have the resilience to be able to cope with the demands of their lives. There are five elements of wellbeing which we promote around the academy and through our broad curriculum:
Tips to Improve Your Wellbeing-
Relax and lower your stress (listen to music, go for a walk, try mindfulness)
Learn new things and be creative (play an instrument, draw or bake)
Spend time in nature
Be in contact with others
Look after your body (drink enough water, eat healthily, do some exercise)
Get enough sleep
Many of us need additional support to keep our emotional wellbeing in check. At Knole we currently have a range of provisions to promote positive emotional wellbeing- the poster below summarises this provision.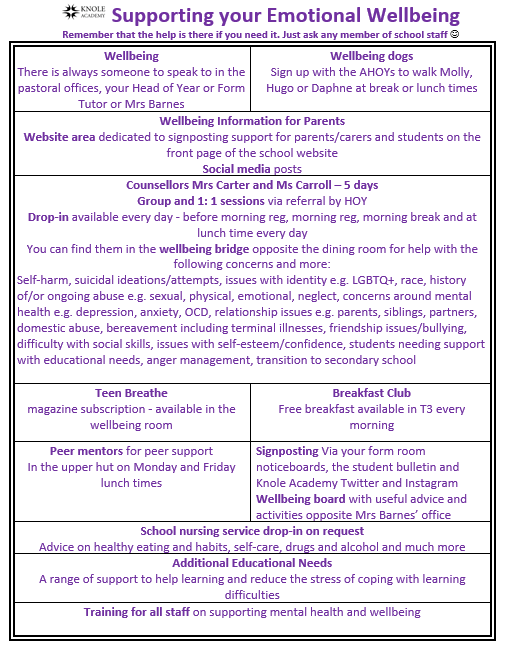 Mental Health
Sometimes we feel that we may have mental health needs (or that our children have) or are experiencing traumatic experiences. The video below will help you to understand what mental health is.
The information on this page is provided to inform and help you. Click on the menu on the right hand side to be taken to information on signs and symptoms of a range of mental health issues and triggers, and support and guidance for young people or parents/carers. This information comes from experts in recognised national and local support services.
Usefull Links: