The Trust
Meet the Members
Gordon Phillips
Member
I am the lead sponsor for Knole Academy and became involved with the academy at its inception, in 2008, and was a member of the project steering group. I meet regularly with the other sponsors, the Chair of governors and the Principal to look at the strategic development of the academy.

My belief is that all young people have potential and respond best in a safe, well ordered and disciplined environment. It is our responsibility to inspire and provide exceptional learning environments so that all young people can reach their maximum potential. This will give them the qualifications and personal skills that will help them to make the right choices for their future and to succeed in adult life.
Alison Beckett
Member
Alison was appointed Chair of Governors at Sevenoaks School in December 2020. She joined the Governing Body in 2013, and has been Chair of the Education Committee. She attended the City of London School for Girls, read Geography at Sidney Sussex College, Cambridge, and gained an MBA at London Business School. Alison has worked in consulting firms and industry and is a consultant at Egon Zehnder, the leading global leadership advisory firm. She has two daughters who studied at Sevenoaks School and lives in London. She is also a non-executive committee member of the Finance and General Purposes Committee at the Zoological Society of London.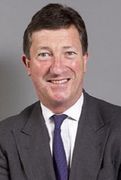 Nick Chard
Member
Nick was first elected to Kent County Council (KCC) in 1997 and represents Sevenoaks East. He has held several positions at KCC including, Cabinet Member for Finance, Cabinet Member for Environment, Highways and Waste and Chairman of Kent Health and Overview committee (HOSC). He is currently Chairman of Kent and Medway Fire and Rescue Authority.

Nick has had several national appointments in local government; Vice Chairman of the Improvement and Development Agency (IDeA) and County Council Network (CCN) Executive and is a member of the Advisory Board of the Centre for Public Scrutiny. He is the lead employer Member of the NJC,( National Joint Council) for the Fire Services in England, Wales and Northern Ireland and an executive Member of the Fire Commission.

Nick was a governor at the previous Bradbourne School for Girls and is passionate that all pupils at Knole Academy reach their potential.
Robert Sackville-West
Member
After studying History at Oxford University and business at the London Business School, Robert Sackville-West worked in publishing, in 1985 founding Toucan Books, which creates illustrated non-fiction books for an international market. He now combines that with chairing Knole Estates, the property and investment company which – in parallel with the National Trust – runs the Sackville family's interests at Knole. Among other voluntary roles, Robert has a long-standing interest in education. Until 2008, he was chairman of the governing body at Sevenoaks School, and is currently chairman of the Sevenoaks School Foundation. He is a governor (and chair of the Finance and Premises Committee) at the Knole Academy in Sevenoaks; and a director of the UK board of the International Baccalaureate Organization. He is a trustee of the Chevening Estate, a trustee of the Royal Oak Foundation, and a deputy-lieutenant of Kent.
Robert is the author of the critically acclaimed Inheritance: The Story of Knole and the Sackvilles (2010) and The Disinherited (2014).
Pam Tolhurst BEM
Member
The first 17 years of the world of work afforded me administrative opportunities with the Royal National Institute for the Blind where I gained wide experience of rehabilitation and training of people registered as blind and partially sighted. On 'spreading my wings' beyond that focus I worked for 14 years until 2001 at what was at the time of my appointment Sevenoaks School for Girls. My initial employment as School Secretary led to me fulfilling the role of Administration Manager, Head Teacher's Secretary and Clerk to the Governors. I remember the work involved in the school's change of name to The Bradbourne School. My previous experience in the welfare of blind people was enhanced in 2001 through employment with Kent Association for the Blind as a guide communicator working with deaf-blind people. In 2004 I was commissioned as Local Church Leader at Gillingham United Reformed Church in the Medway Towns. I continue to fulfil that call with the privilege of enjoying wider opportunities within the national church. I still live in the house in which I was born in Sevenoaks and am very grateful for the invitations afforded me to maintain contact with Knole Academy. I really enjoy engaging with people and have a 'pastoral heart'.
P Flemming
Member
Peter was educated at The Wildernesse School, Sevenoaks, where he later became Vice Chair of the Board of Governors until its closure, and went onto West Kent College before a career in technical theatre, obtaining a post graduate qualification in Stage Lighting Design from Rose Bruford College. He is a Fellow of the Royal Society for the Encouragement of Arts, Manufactures and Commerce and was awarded an OBE for services to Local Government in the 2015 New Year's Honours.