Design Tech & Science Departments produce PPE Face Shields for the local community
Back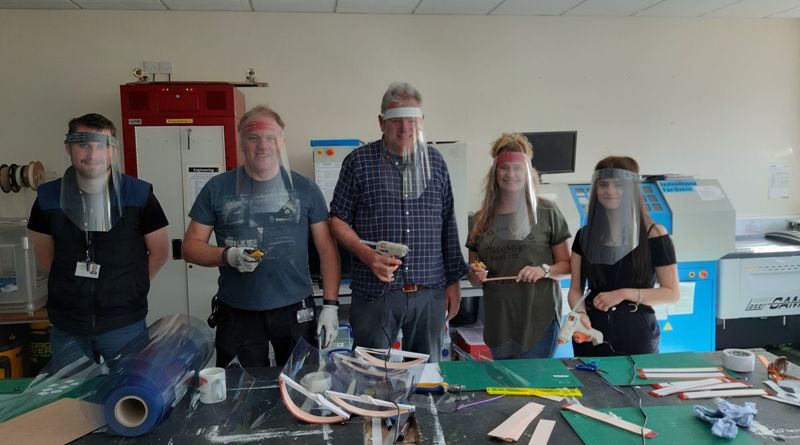 Article
/ Posted on 27 Apr
Mr Roberts, our Construction and WRL Teacher, approached our Headteacher Mr Collins with the proposal of producing PPE masks for our local hospitals and carers using the resources that we have in our Design Tech and Science Departments. Our Head of Science, Mrs Corbett was delighted with this idea and had already supplied masks, goggles and gloves to local carers, nurses and social workers.
Joining forces, our Design and Science departments along with staff members Miss Nixon (along with help from her daughter Penny), Mr Andrews, Miss Righelato, Mr Willis, Miss Cheeseman, Miss Bridge and a few students, looked at producing 3D print masks, however realised that the speed and amount produced would be severely limited. They therefore found a design by Tonbridge School https://make-more-masks.com/ with materials that were held at school which meets the Government specification criteria.
"We have been fortunate to help some vital groups in our society, such as our careers and service distributors that support our NHS to function at full strength. Many carers have struggled to get PPE items such as aprons, masks, gloves and goggles and have been continuing to care for the vulnerable, some with symptoms of the virus. We are proud that we can give them piece of mind that they are protected when moving between their client's and their families. The response has been overwhelming and really has opened our eyes to how much we can do to help. Our AEN Department have also donated gloves, aprons and Dettol wipes to go out with the masks".
Mrs Corbett, Subject Leader Science

"We had the materials and knowledge to do something proactive and create PPE that could potentially save front line staff's lives. It has been a way that we can contribute in some small way to this fight. Tonbridge School have created over 2500 masks for frontline staff so as long as this goes on and if we can continue to get resources we will continue to create masks. We have heard from numerous people that they would like as many as they can get their hands on".
Mr Ereaut, Science Teacher
The staff and students initially made x150 of the masks, with each mask roughly taking 10 minutes to produce, and supplied to Sevenoaks Hospital, Princess Royal Hospital, Laurium Care Services, Otford Care Agency, Gloucester House Nursing Home Beckenham, Nourish Foodbank Tunbridge Wells, KCC Kent Enablement Home Team and Paddock Wood Care Group.
"We would like to thank Knole Academy School Sevenoaks' staff and students who made these face shields according to government specifications. They were distributed to X-ray and MIU and the rest were put in the buffer store on the ward Sevenoaks".
Mrs Burgum X-Ray Department, Sevenoaks Hospital, Kent Community Health NHS Foundation Trust
The team produced a further x100 just before the weekend and are furiously working away to produce plenty more. Unfortunately we have now run out of acetate and are looking at sourcing more, we are also in short supply of plastic and elastic. We are now laminating A3 pouches which are proving successful and are enhancing the design. We will continue to support our local community as much as we can.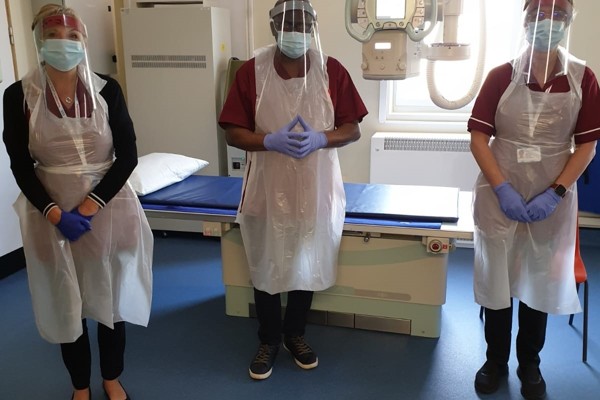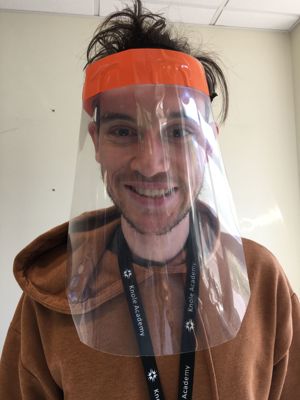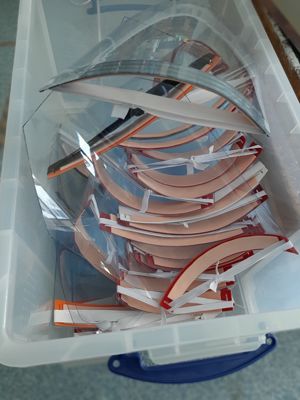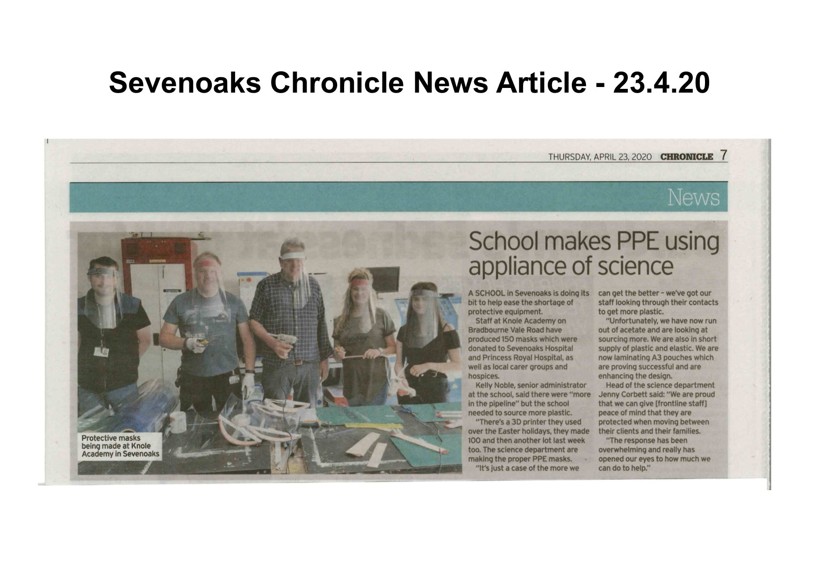 We received a lovely thank you card from the NHS: